I love to cook and bake. It's a relaxing activity for me, and one of the easiest ways for me to save money and stick to a healthy diet. I'm about 90% vegan and gluten-free, though I never deny myself something if I really want it. I just know that my body feels better when I adhere to my diet.
I'm not one for recipes, either. My mom taught me how to season food using my senses of smell and taste, and I usually just kind of throw something together. It's a talent I'm pretty proud of.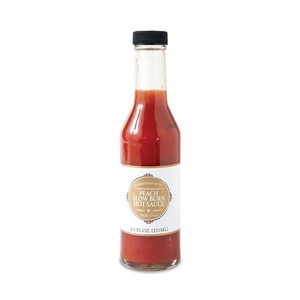 Lately, though, I've been seasoning almost of my meals with one specific sauce: Charleston Favorites Peach Slow Burn Hot Sauce. It's low-calorie, absolutely delicious, and at $4.95, totally affordable.
It all started when Lin-Manuel Miranda was doing a Q&A on Twitter, and someone asked him what his favorite kind of hot stuff (I assume that meant sauce) was, and this was his answer:
And he followed it up with this photo:
Cue me googling frantically and then ordering three bottles from Food For the Southern Soul. I figured if I liked it, I'd keep two, and have one lying around as a housewarming/hostess gift. I guess I'm grown-up like that.
This sauce is so good. I put it on leftover artichoke tajine, mac n cheese, eggs, avocado toast, you name it, it makes it better.